Diesel Engines
for ship propulsion and power plants
Brochure
You may download the brochure of the diesel engine book with all the information you need. After an order we will send you the invoice by e-mail and after payment by bank or by credit card we will ship the book as soon as possible!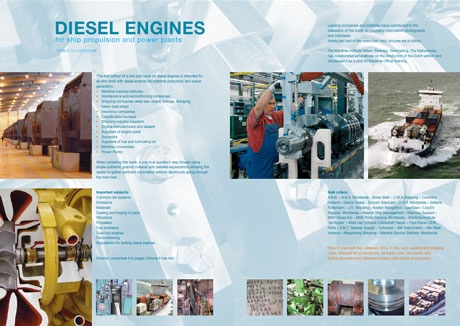 The new Diesel Engine Book
Look inside ′Diesel Engines′
This second completely revised edition, July 2012, of a two-part book on diesel engines is intended for all who work with diesel engines for maritime propulsion and power generation.
Read more »
News from the author
The diesel-engine manufacterers
The production level of diesel engines is low. Who have an important market share in the four diesel engine categories?
Read more »
Topic of the month
Wear of cylinder liners
Insufficient insulation of electrical systems on dieselgenerator sets can cause serious damage of cylinder liners and crankpin and crankshaft bearings.
Read more »
Special
Dual fuel engines for lower emissions
Natural gas is the ideal fossil fuel to minimize the exhaust- gas emissions of modern dual-fuel diesel engines; also the cost of maintenance and repair will be reduced considerably.
Read more »