News of the Author

News
September 2016
Invitation to SMM Hamburg 2016, September 6th. to 9th
SMM 2016, September 6th. to 9th, is the international platform and the leading exposition for the maritime industry. We exhibiting our books in Hall A5 – Stand 105.
Target Global Energy Training is author and publisher of the following books:
The new gas- and dual-fuel engine book for ship propulsion, powerplants and cogeneration.
The new diesel engine book for ship propulsion and powerplants.
The Dutch edition of the new diesel engine book for ship propulsion and powerplants.
Target Courses:
Target Global Energy Training provides the industry with courses on request in engine technology. Target has over 40 years' experience with internal combustion engines and is specialised in diesel- gas- and dual-fuel engines for ship propulsion, powerplants and cogeneration.
See also our website, www.targettrainingcentre.com
New hall dedicated to green propulsion
We are excited to announce a new exhibition area at SMM 2016 dedicated entirely to green propulsion. Hall A5 will cover all aspects of alternative and environment friendly technologies in marine propulsion. This will give shipyards and equipment suppliers the ideal showcase for their alternative and low-emission technologies such as LNG, methanol, hybrid and dual-fuel propulsion systems, fuel cells, wind power etc. It will also reflect the whole of the process chain for LNG in ports, such as LNG bunkering facilities and storage infrastructure.
Hall A5 will be the meeting point for expert information exchange on core competencies in green propulsion – charting a new course for further growth of green shipping.
Looking forward to seeing you in the new Hall A5 at West Entrance.
Kees Kuiken, Manager Target Global Energy Training.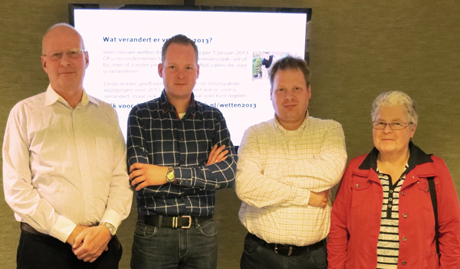 Kees, Christiaan, Niels and Truus Kuiken at the chamber of Commerce, Groningen. December 2012
Christiaan Kuiken, dual maritime officer will take care of the new technical developments in the maritime field. Niels Kuiken is responsible for the website, logistics and stores. Truus Kuiken will continue with the administration and customer service and Kees Kuiken will publish new items and a gas engine book in Juni 2016.
Diesel engine books, second edition 2016.
The following institutes ordered the books for the training of their students.
Maritime Institute "Willem Barentsz, Terschelling, the Netherlands.
Maritime Institute Chalmers, part of Cremona, Göteborg, Sweden.
The Maskinmesterskolen in Arhus and Copenhagen, Denmark.
IMM Bergen University College, Bergen, Norway.
The Maritime Institute of California, Vallejo, United States.
The United States Coastguard, Portland, USA.
STC Group, Rotterdam, The Netherlands.
Gas- and dual-fuel engine book for Ship propulsion, powerplants and cogeneration.
The first customer is the training centre of MAN Diesel & Turbo Copenhagen.
See you at the SMM Hamburg, 6th – 9th of September 2016. Hall A5, stand 105!
The new Diesel Engine Book
Look inside ′Diesel Engines′
This second completely revised edition, July 2012, of a two-part book on diesel engines is intended for all who work with diesel engines for maritime propulsion and power generation.
Read more »
News from the author
The diesel-engine manufacterers
The production level of diesel engines is low. Who have an important market share in the four diesel engine categories?
Read more »
Topic of the month
Wear of cylinder liners
Insufficient insulation of electrical systems on dieselgenerator sets can cause serious damage of cylinder liners and crankpin and crankshaft bearings.
Read more »
Special
Dual fuel engines for lower emissions
Natural gas is the ideal fossil fuel to minimize the exhaust- gas emissions of modern dual-fuel diesel engines; also the cost of maintenance and repair will be reduced considerably.
Read more »